Raptor Tactical Sentinel Skull Crusher GEN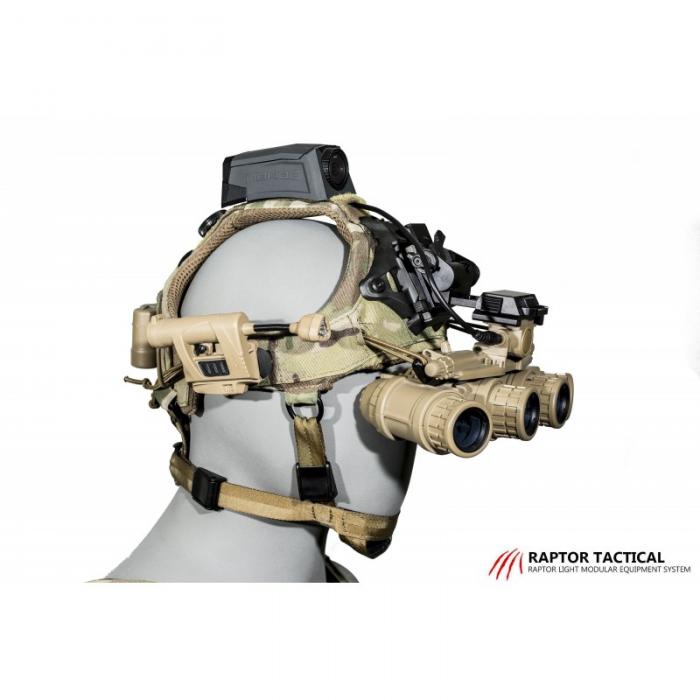 Raptor Tactical Sentinel Skull Crusher GEN 2.0
RAPTOR TACTICAL SENTINEL SKULL CRUSHER GEN 2.0 is the newest in tactical headgear to hit the market. Its lightweight design and comfort padding allows you to navigate obstacles with ease. Our Skull Crusher provides hands-free use with many night vision devices. Perfect for night hunting, star gazing, or just finding your way around the house at night! It is a one-size-fits-all device that has an incredible amount of adjustment. Sentinel provides plenty of air flow during extended wear.

The Sentinel is compatible with all base plates mounts available on the market, with pre-cut holes you can put shrouds such as WILCOX, NOROTOS, and standard issue base plates.

The Sentinel Skull Crusher features are rail mounting holes on the sides that can accommodate MAGPUL MOE rails for the addition various accessories such as lights, illuminators, and cameras.

Again on the top, we put loop portion where you can attach your V-Lite or MOHOC camera. On the back, there is a loop-molle panel where you can attach your counterweight pouch or use molle mounting system to add your pouch. On each side and a top, we provide three access points for your cables that can get weaved through internally giving you slick, clean and ergonomic look.

Two shock cords for night vision stabilization

(no flapping straps, and no tape needed). Fully adjustable one size fits all Chinstraps.

Item Info
| | |
| --- | --- |
| Item | Available In Store |
| UPC | RT-SENTINEL-MC |
| Brand | Raptor Tactical |
| Model | RT-SENTINEL-MC |