Glock 48 Right Hand Black OSW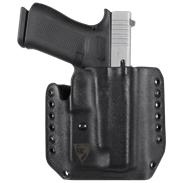 Glock 48 Right Hand Black OSW
The Alpha Holster for Glock 48 is DSG's workhorse - our full-size outside-waistband holster OWB for daily duty and training use. Built pancake style and molded to the body for comfort and concealment, the Alpha Holster is constructed of virtually indestructible .093 Kydex 100 rather than the .080 industry standard. That just means it's slightly thicker and more scratch resistant than most holsters. The Alpha Holster was designed for hard use and all-day-long comfort, proven by members of the US Law Enforcement, Military, and Border Patrol as well as the Texas Rangers and citizens all over North America.

Adjustable retention on all holster models.
Refined and finished edges for a comfortable, close-to-the-body fit.
Durable Kydex 100 construction with PI scratch-resistant texture and higher heat tolerance.
Right hand and left hand available in all models.
Engineered sight channel for night sights and most suppressor sights.
Injection molded 1.75" belt loops on all HR models.
Compatible with Glock MOS version slides with most modern red dot optics.
Adjustable cant as well as height on belt.
Lighted models for TLR-1, X300UA, TLR-6, and XC-1.

Note: Holsters for light attached weapons will not retain weapon without light attached.
Item Info
| | |
| --- | --- |
| Item | Available In Store |
| UPC | 842361119423 |
| Brand | DSG Arms |
| Model | 1011-0087 |